Soo Yung
is a character from the
Rush Hour
movies. She is the daughter of a Chinese consul who, as a little girl, was kidnapped by the crime boss
Juntao Griffin
. Thankfully,
Chief Inspector Lee
and
Detective Carter
 rescued her and defeated Juntao Griffin.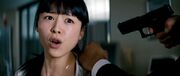 Years later, as an adult, she was attacked by another crime bross, Kenji. Lee and Cater defeated Kenji, and after that Soo became Lee's girlfriend.
Ad blocker interference detected!
Wikia is a free-to-use site that makes money from advertising. We have a modified experience for viewers using ad blockers

Wikia is not accessible if you've made further modifications. Remove the custom ad blocker rule(s) and the page will load as expected.