Preston Packard
is a character from
Kong: Skull Island
. He is an U.S.A. army coronel dissatisfied with the end of the Vietnam War. After he is hired by M.O.N.A.R.C.H. to an expedition to Skull Island, he becomes psychotically obsessed with killing
King Kong
, putting the lives of everyone in the expedition at risk, not realizing that Kong is the only thing keeping humanity from being wiped out by the
Skull Crawlers
. In the end, Packard faces off in a final confrontation with Kong, at which point Kong squashes Packard with his giant fist, killing Packard.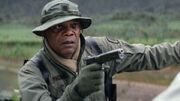 Ad blocker interference detected!
Wikia is a free-to-use site that makes money from advertising. We have a modified experience for viewers using ad blockers

Wikia is not accessible if you've made further modifications. Remove the custom ad blocker rule(s) and the page will load as expected.