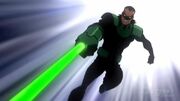 Power Ring is a character from the movie "Justice League: Crisis in Two Worlds" and from DC Comics. He's an evil version of Hal Jordan from a parallel universe. He wields a magic ring that gives him flight and the ability to create green energy constructs. He wants to take over the multiverse, but Hal manages to defeat him.
Ad blocker interference detected!
Wikia is a free-to-use site that makes money from advertising. We have a modified experience for viewers using ad blockers

Wikia is not accessible if you've made further modifications. Remove the custom ad blocker rule(s) and the page will load as expected.