Kamina Jiha
is one of the main characters from the anime
Tengen Toppa Gurren Lagann
. He is the one who rallied
Simon Digger
and
Yoko Littner
in their fight against King Lordgenome and his army of Beastmen, acting as a mentor to Simon and Yoko. He seems arrogant at first glance, but he is actually very wise and intelligent, and very loyal to his friends. He fights by controlling a giant robot called the Gurren, as well as his martial arts skills. He was killed by a Beastman general.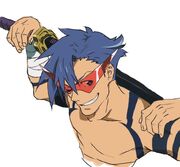 Ad blocker interference detected!
Wikia is a free-to-use site that makes money from advertising. We have a modified experience for viewers using ad blockers

Wikia is not accessible if you've made further modifications. Remove the custom ad blocker rule(s) and the page will load as expected.