Jonah Hex
is a character created by John Albano and Tony de Zuniga. Adopted by a tribe of Native Americans, Jonah's adopted Native American brother killed Jonah's Native American wife and slashed Jonah in the face with a seering tomahawk, leaving a part of Jonah's face permanently scarred. This soured Jonah's outlook on life, and he became a bounty hunter. However, he is still noble and brave, and will fight against the forces of evil whenever he finds them. Superheroes who travel back in time to the Wild West find themselves teaming up with Jonah to fight a supervillain.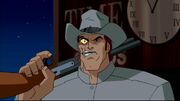 Ad blocker interference detected!
Wikia is a free-to-use site that makes money from advertising. We have a modified experience for viewers using ad blockers

Wikia is not accessible if you've made further modifications. Remove the custom ad blocker rule(s) and the page will load as expected.