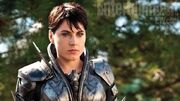 Faora is a character created by Curt Swan. She is General Zod's wife and main henchwoman, carrying out his orders without question and wanting to rule the Earth by his side. Thankfully, Superman always manages to stop her.
Ad blocker interference detected!
Wikia is a free-to-use site that makes money from advertising. We have a modified experience for viewers using ad blockers

Wikia is not accessible if you've made further modifications. Remove the custom ad blocker rule(s) and the page will load as expected.