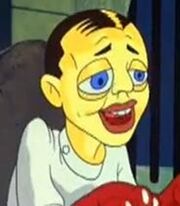 Doctor Clint Manger is a member of the Looney Tunes. He is an evil mad scientist who often tries to capture the rest of his Looney Tunes for his horrific experiments. He appeared in "Looney Tunes: Back in Action", working as Doctor Acme 's head scientist. He appeared in "Tiny Toons", where he was defeated by Plucky Duck .
Ad blocker interference detected!
Wikia is a free-to-use site that makes money from advertising. We have a modified experience for viewers using ad blockers

Wikia is not accessible if you've made further modifications. Remove the custom ad blocker rule(s) and the page will load as expected.