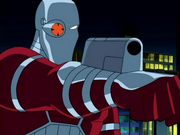 Deadshot is a character created by Bob Kane, David Vern Reed and Lew Schwartz. He's a supervillain for hire, willing to work for Batman's most notorious enemies in order to kill Batman. He can kill anyone with any object he lays his hands on, and he always tries to never miss his target, but thankfully Batman always manages to defeat him.
Ad blocker interference detected!
Wikia is a free-to-use site that makes money from advertising. We have a modified experience for viewers using ad blockers

Wikia is not accessible if you've made further modifications. Remove the custom ad blocker rule(s) and the page will load as expected.